Margot Mitchell-Nockowitz is a print & papermaker creating work on the subject of contemporary Jewish life and its relationship with American white supremacy. Her work appropriates archival imagery and incorporates text to tell a visual narrative that addresses both the intimate and universal nature of a threatened community and those that act as its threat.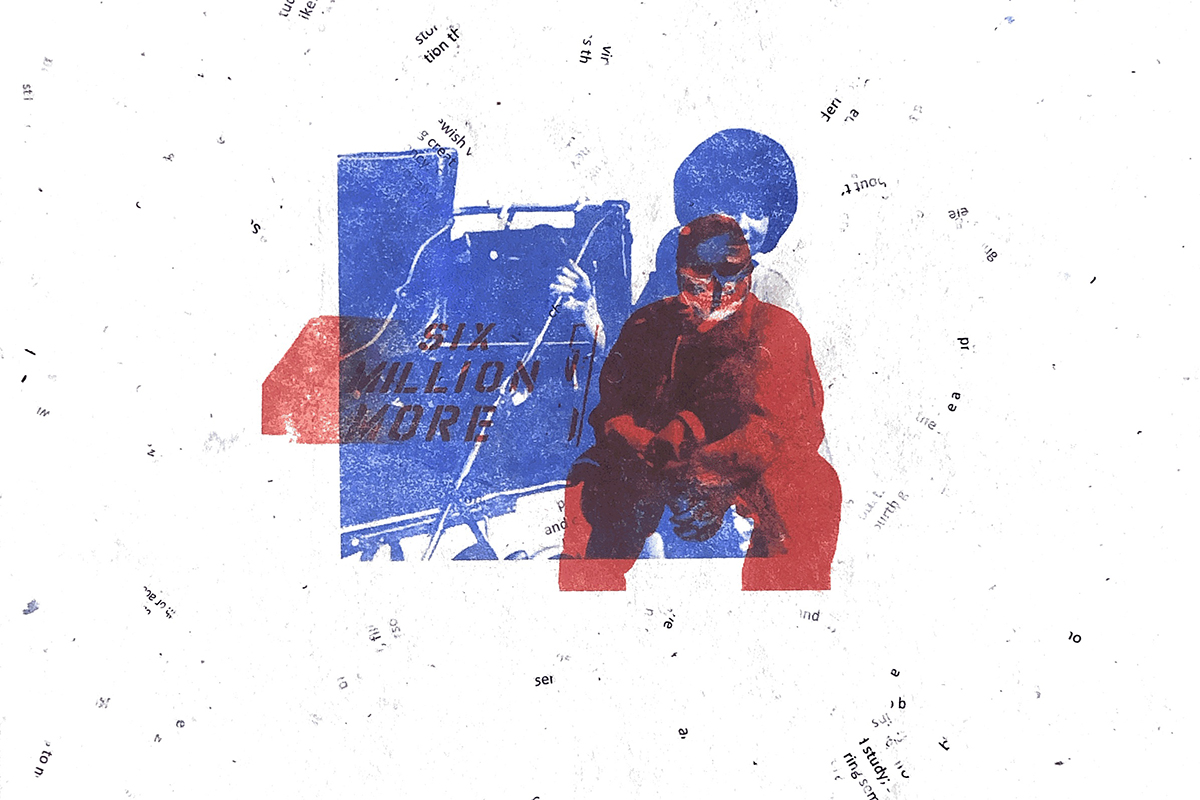 Together We Gather בבטנו של זאב (in the belly of the wolf) is a text and print based conceptual series on my experience as a Jewish American in a country that continues to stew with a modus operandi of fervent anti-Semitism.
The work is a dedication to my family as much as it is a dedication to the time I have spent researching the contemporary behaviors and insular communities of white supremacists. It's meant to depict the heartache of compulsively continuing traditional forms of Judaism with the awareness of impending danger and persecution, and how both the history of supremacy, as well as that of the Jewish people, are bound by necessity to their respective forms of ritual, specifically for the purpose of cultural preservation. The photographic edits of my family, printed in blue, are derived from film slides and archived images provided to me by my grandparents. They depict my family in moments of religious ritualism, and also in moments of convening in culture, like over Shabbat dinner.
The partnering photographs, which are printed in red, are similar style edits made from the work of Mark Peterson, a photographer working now on the depictions of modern politics, particularly conservatism and neo-Nazism. These edits feature American Nazis continuing their traditions, too - raising wooden swastikas, committing acts of violence in counter protests, and the like. The text that accompanies them is a piece written by myself on the eve of Yom Kippur, right before the evening service began at my temple in Brookline. Yom Kippur is a Jewish holiday meant for celebration, reflection, and mourning, as it is positioned at the start of the Jewish New Year. Pamphlets from the temple are featured as flecked throughout the handmade paper on which everything featured was printed.
I am looking to talk about Jewishness because it is at the heart of the life that I know. My community's long history in America is encompassing of the things we discuss on a daily basis as a country: tradition, novelty, white fragility, constructionism, revisionist history, and family. I would argue that my relationship with Jewishness is as important to me as my relationship with white supremacy, meaning that both determine the ways in which I live my life, and the ways in which my family has lived theirs. I am as interested in how supremacy works in a contemporary sense as I am in how Jewishness does. Hopefully the existence of a project like Together We Gather בבטנו של זאב (in the belly of the wolf) will allow myself and others to experience intimate narratives that are challenging, scary, frustrating, and familiar.
Pictured in this catalog are film slides provided to me by my grandparents, Barbara and Gary Kanalstein. The film slides were scanned then eventually edited and made into the blue prints featured in the series.