The work of Jhona Xaviera is a meditation on, and reclamation of, queer and trans presence within the histories and futures of afro-diasporic mythologies. They consider their own positions within Afro-Caribbean diasporic history and spirituality to celebrate and interrogate relationships of power between Transness, Blackness, Queerness, Latinidad, and Divinity. They aim to inspire transformative justice, healing, and self-love by returning to indigenous and afro-diasporic practices of connecting with earthly, cosmic, and queer modes of being. Xaviera is a self-described multimedia chimæra, and their interwoven stories come to life and evolve through their poetry and prose, photography, video, and performance. Their work transforms space by creating ritualistic installations and performances that are a testament to honoring ancestral lineage and future possibilities. This is done through channeling Asyra, the many-faced goddess of light.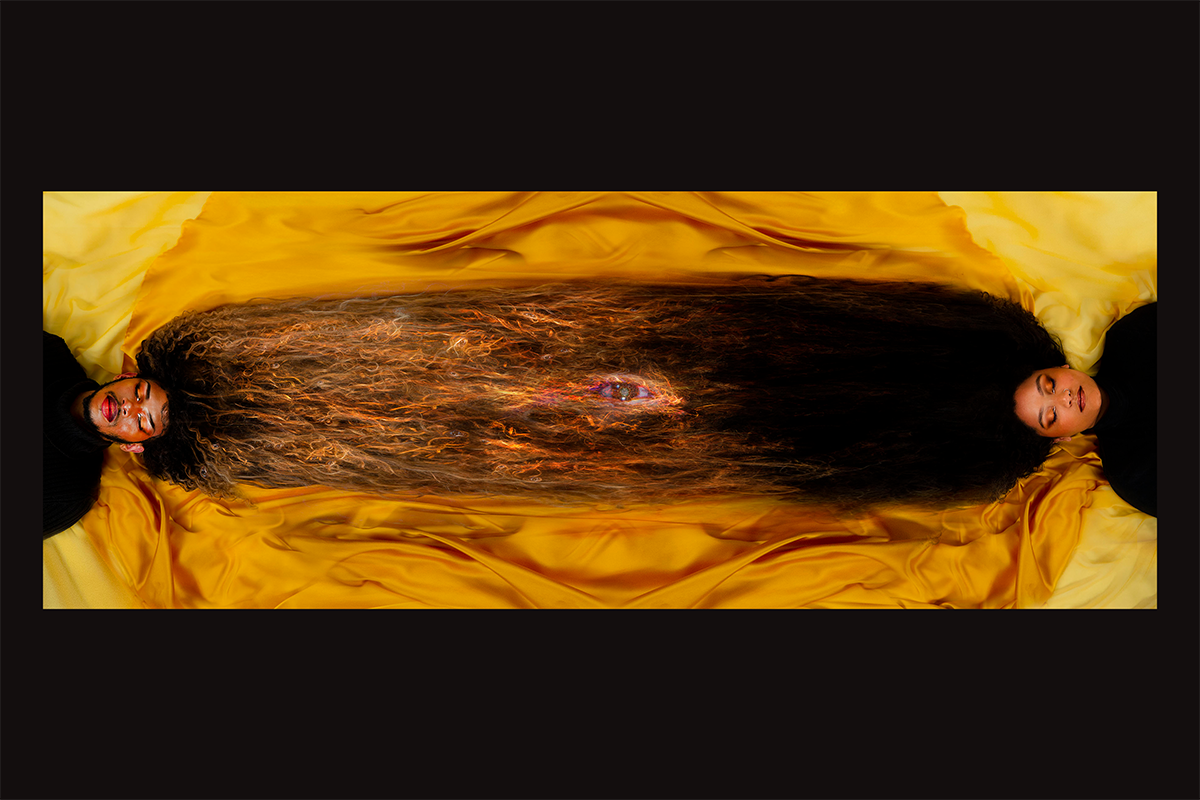 Asyra Rising is an altar dedicated to healing, transformation, and self-love. I invite others to find refuge with me in this space of vulnerability and power. "You Deserve A Love as Sure as The Sun" is a video series of poetic meditations and songs that reflect on the trans experience through becoming an initiate of my fictional goddess of light, Asyra.
My installation strategy and performance structure are inspired by histories of Black Atlantic uses of altar spaces, ritual performance, sacred vessels, and tapestries, as part of a holistic spiritual mode of being that is inherently embodied throughout daily life. In traditional museum or gallery settings, works of this nature are often sterilized within the "white cube" model and are even further removed from their cultures when considering the complex histories of colonial theft. This is further complicated when museums are not made accessible or inviting to lower class black, indigenous, and brown people to view, participate in, or work with what little is available of their cultural histories away from "home."
In media, politics, academia, and even religion; black, indigenous, trans, and queer trauma are far too familiar and sensationalized, and their experiences either demonized or hidden. I instead want to create work that reimagines what love and healing can look like within the context of decolonial and revolutionary frameworks alongside other queer, trans, black, and indigenous people of color.
My work embodies these attitudes through the vibrant coloring of the space and objects: red, representing the first veil of color in the rainbow, the passion and vitality of life, and the blood spilled before me; gold, as representative of the gifts of honeybees, the preciousness that grows deep within the earth, and the light of the sun; and finally, my body as a vessel to carry forth the spirit of the work through the presence of my voice, all in alignment with ancestral ideals of love as resistance grounded in Negro-Spiritualism, Afro-Futurism, African diasporic mythology, and Taíno cultural history.
My live performance, "Incantation to The Sun Goddess," is a continuation of the meditative video, "You Deserve a Love as Sure as The Sun," from which all of the poetry is contained within my book, "Alchemy of The Black Sun." Also featured within the book is "The Myth of Sirius and Asyra," which is the narrative foundation to all of the visual, performative, and theoretical language throughout the breadth of my work.